Licensed Family Child Care Home
-
Family, Friend, or Neighbor Care
-
Career and Training Opportunities
-
Child Care Initiative Project
-
Child Care Subsidy Program
-
Early Learning Library
BECOME A PROVIDER
Licensed Family Child Care Home
-
Licensed Child Care Center
-
License-Exempt Provider
LICENSED FAMILY CHILD CARE HOME (FCCH)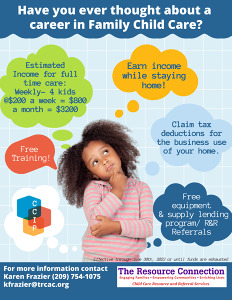 May be licensed for up to 8 (for a small FCCH) or 14 (for a large FCCH) children, depending on the license.
Is a program where care is provided in the licensee's home.
Is licensed, along with the child care provider, by the California Department of Social Services, Community Care Licensing Division (CCL).
Has Health and Safety requirements that must be maintained and which are monitored by CCL.
Must maintain specific adult-to-child ratios.
Is required to be certified in EMSA approved CPR/First Aid. For a large FCCH, any additional staff that may be left alone with the children must also be certified in EMSA approved CPR/First Aid.
Is required to have the provider, as well as anyone who lives in the home and is over 18 years of age, tested for TB, fingerprinted with a criminal background check, and cleared in the California Child Abuse Index.
How to Become a Licensed Family Child Care Home
To find out if this is a good fit for you, please visit the CA Department of Social Services, Community Care Licensing Division webpage for Family Child Care Home Licensing Information
Be prepared to pay a fee for the orientation and application fees, which are not refundable.
Find out how the Resource Connection can help with your licensing expenses and professional development - call 209-754-1075 or 877-944-9911

Before applying for your FCCH license, you must attend an orientation:
Register for an Online Orientation - Register for In Person Orientation
Be familiar with CA Family Child Care Home Licensing Regulations
Complete and submit all the information and forms in the License Application and Instructions for Family Child Care Homes
When Licensing confirms application is accepted, complete background check for all members working and volunteering in the home
Be prepared to show proof of immunizations, blood tests are available if proof can't be found
Enroll in an EMSA CPR-First Aid training and Health & Safety Training, we can help
We are availabe to visit for a prelicensing visit
A CCL License Program Analyst will schedule and perform a pre-license inspection of the home


Live Scan Locations

Locations in California to get Live Scan Fingerprinting
Transferring a Clearance
Active criminal record clearances may be transferred between state licensed facilities or the TrustLine Registry program. If an individual has an active clearance, he/she should not be reprinted. Licensees or license applicants may contact their local CCL Regional Office to verify the individual's status. Visit the Department of Social Services for more information and to download the transfer form.
Online Resources to Assist You