Licensed Family Child Care Home
-
Family, Friend, or Neighbor Care
-
Career and Training Opportunities
-
Child Care Initiative Project
-
Child Care Subsidy Program
-
Early Learning Library
CHILD CARE & DEVELOPMENT LENDING LIBRARY
About the Library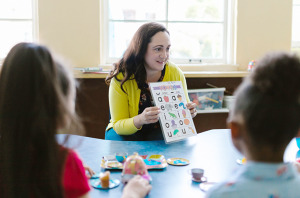 The lending library is a resource of knowledge specializing in children, child care, child development and early education:
Books and other types of resource materials for Early Learning Professionals and Parents
For Providers - Age-appropriate, Creative, and Educational play equipment, toys games and puzzles.
Our staff can assist you in locating information that's just right for you, as well as provide more resources though the community resource directories we maintain.
The R&R Library Catalog Is Now On-line
So you can search/browse what we have to borrow.
.
What's Available in our Library
Child Care/Development Leadership & Advocacy
Administrative & Business guides
Child Care Center, Facilities, and Family Child Care resources
Books on Parenting - Guides, Tips, and Situations
Child Development and Early Childhood Education Materials
Care and Family Education, Curriculum and Activities
Nature, Health and Nutrition Information
Children's books and stories covering cultural diversity, literacy, nature, social development and issues, early education, and literacy
Multimedia Materials* - Music, Entertainment and instructional Tapes, Videos, and DVDs
College Guides and Training Materials
Disabilities and Special Needs Resources
*For Providers - Age-appropriate, creative and educational play equipment, toys games, and puzzles.
Child Care Home Provider Library Benefits
Additional Materials and Age Appropriate Toys
The library provides for local Child Care Providers lending of toys, kits, games and puzzles. Geared for age-appropriate activities and to foster young child development.


Activity/Craft Resources and Technology
There is also a provider space where we offer classroom resources to create graphic elements with a Cricut machine, copies, and other craft and activity resources..